I have a confession to make – I don't believe in the Law of Attraction. I blog about it. I like the IDEA of it. I've watched 'The Secret' many times. Hell, I've even written an e-book about how the sub-conscious works (and a damn fine fine one at that – sign up if you haven't already).
But the truth is I don't believe in it. I thought I did, but it turns out that it isn't true. Now don't be alarmed – I didn't say that I didn't believe in it 100%. I do believe in it somewhat. But the strength of my belief is lower than I thought it to be. I would say that the strength of my belief in it is around 56%, just over the halfway mark – a little low don't you think??
Now I know that you are probably wondering what I am getting at here. Here goes…..(drumroll)
WANTING TO BELIEVE IN SOMETHING OR THINKING IT'S A GOOD IDEA DOES NOT MEAN THAT YOU BELIEVE IN IT.
Why? Because it turns out that beliefs are much trickier than we imagine them to be. Beliefs, like still waters, run deep and are affected by many years of conditioning. So if you grew up in a very religious family or in an environment that values hard scientific evidence over belief, then chances are you will have difficulty believing in something like LOA. And, no offense, but I suspect that you probably don't believe that strongly in it either.
Let me also make an important distinction here. LOA is at work around you all the time whether you believe in it or not. My problem was that I didn't believe I could use it to work for my advantage to achieve specific goals such as earning more money by doing less work.
Your Body Gives You the Information You Need
Actually, the best way to know that you really believe in something is to switch off you brain and start listening to your body. Your body actually gives physical responses when you think about something you believe in and something you don't.
Don't believe me?? Try this: think about something that you KNOW to be 100% true, for example, that your name is Karen, that the earth is round, that you live in San Francisco etc. Now when you quiet your mind and listen to your body, where do you feel that statement?
It should be around your chest. Now do the same thing with a statement that you know to be 100% untrue. Where do you feel that and how does it feel?
That's right, it doesn't give you the same uplifting feeling that the true statement gave you. When I think of untrue statements, I feel them in my stomach like a feeling of mild dread. You may be different but if you practise this technique, you can get more used to the messages your body is telling you about your REAL beliefs.
Your Beliefs in Percentages?
Now get this! I am actually quite good at this so not only does my body give me a feeling, I can also sense a number in my minds eye, an approximate percentage. So if I ask myself whether I believe I am physically attractive for my age, I get a number of around 82% (vain I know); if I ask myself whether I believe I am a good teacher, I get the number 78% and so on.
So imagine my shock when I realised that I only believed in the LOA 56%. Obviously I had some sub-conscious programming that didn't allow me to believe so strongly. Mmmmm, what to do ?………….
Ways To Increase the Strength of Your Beliefs
Thankfully, there are ways to increase your beliefs to have them match your life goals. One of the simplest ones is by subliminal messaging and there is even an MP3 specifically designed for this. A Belief in the Law of Attraction mp3 will work on your sub conscious to replace an old belief with a new one. In fact, an MP3 such as this one is essential for anyone wishing to ramp up their Law of Attraction efforts.
There are other things you can practise. The method I mentioned earlier, I discovered on Alan Tutt's 'Choose To Believe'program and the program also gives you ways in which you can raise the strength of your beliefs, particularly your master beliefs, of which belief in the LOA is one. There's too much detail to go into here. That's a whole other blog post.
I guess what I have  learned the most from this exercise is that more important then the Law Of Attraction is BELIEF in the Law of Attraction. Without this, it is just another quantum scientific theory.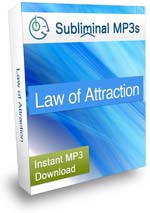 Anyway, if you would like to know more about how your sub-conscious mind works in conjunction with the Law of Attraction, you can download a copy pf my e-book by clicking here.
And don't forget to click the 'like' button or retweet.
Have a great day.
Linda
Share and Enjoy